NFL
Nfl Week 4 2015 – 2015 Nfl Week 4 Leaders & Scores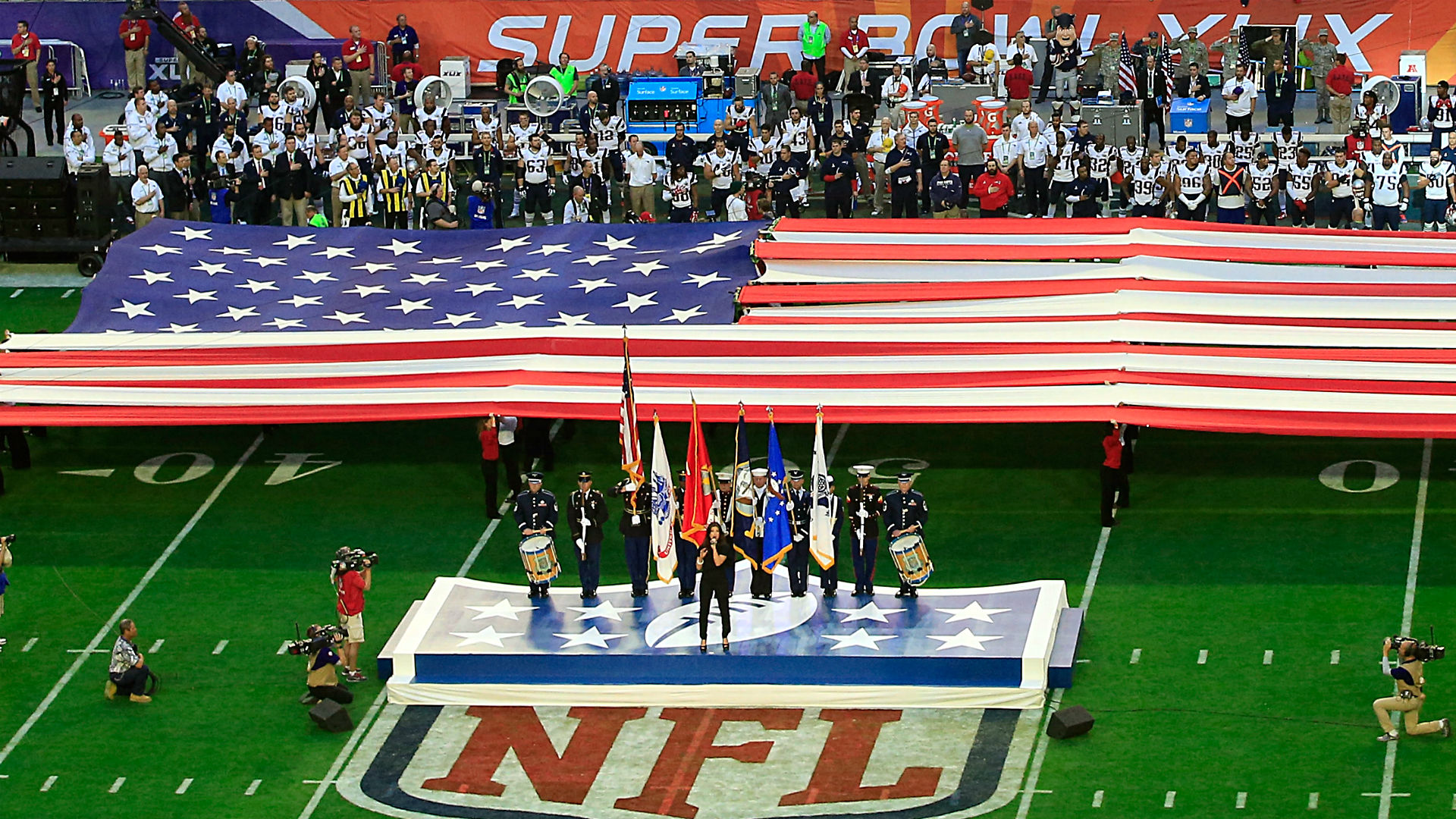 (Getty Images) https://images.daznservices.com/di/library/sporting_news/70/90/super-bowl-49-042115-getty-ftrjpg_wcp04j8d83wn10iq6sz92thsb.jpg?t=-539517748&w=500&quality=80
Đang xem: Nfl week 4 2015
The 2015 NFL schedule was released April 21. Week 1 will kick off with the Super Bowl champion Patriots hosting the Steelers on Thursday, Sept. 10. The first Sunday night game will pit the Giants and Cowboys in an NFC East showdown. A pair of NFC games form the Week 1 Monday Night Football doubleheader: Eagles at Falcons, and Vikings at 49ers.
Xem thêm: Holy Cross Basketball Roster
A week-by-week look, with dates, times and TV information, at the 256 regular-season games, the posteason schedule and Super Bowl 50 at Levi"s Stadium in Santa Clara, Calif., on Feb. 7, 2016 (all times Eastern):
Xem thêm: Longest Name In Nfl History? Top 5 Longest Names In Nfl History!
MORE: 15 must-watch games | Toughest, easiest roads to playoffs | Best games for each week | Week 1 betting lines released | Need tickets? Get them here
WEEK 1
Thursday, Sept. 10Steelers at Patriots, 8:30 p.m. (NBC)
Sunday, Sept. 13Colts at Bills, 1 p.m. (CBS)Packers at Bears, 1 p.m. (Fox)Chiefs at Texans, 1 p.m. (CBS)Panthers at Jaguars, 1 p.m. (Fox)Browns at Jets, 1 p.m. (CBS)Seahawks at Rams, 1 p.m. (Fox)Dolphins at Redskins, 1 p.m. (CBS)Saints at Cardinals, 4:05 p.m. (Fox)Lions at Chargers, 4:05 p.m. (Fox)Ravens at Broncos, 4:25 p.m. (CBS)Bengals at Raiders, 4:25 p.m. (CBS)Titans at Buccaneers, 4:25 p.m. (CBS)Giants at Cowboys, 8:30 p.m. (NBC)
Monday, Sept. 14Eagles at Falcons, 7:10 p.m. (ESPN)Vikings at 49ers, 10:20 p.m. (ESPN)
WEEK 2
Thursday, Sept. 17Broncos at Chiefs, 8:25 p.m. (CBS/NFLN)
Sunday, Sept. 20Patriots at Bills, 1 p.m. (CBS)Texans at Panthers, 1 p.m. (CBS)Cardinals at Bears, 1 p.m. (Fox)Chargers at Bengals, 1 p.m. (CBS)Titans at Browns, 1 p.m. (CBS)Lions at Vikings, 1 p.m. (Fox)Buccaneers at Saints, 1 p.m. (Fox)Falcons at Giants, 1 p.m. (Fox)49ers at Steelers, 1 p.m. (Fox)Rams at Redskins, 1 p.m. (Fox)Dolphins at Jaguars, 4:05 p.m. (CBS)Ravens at Raiders, 4:05 p.m. (CBS)Cowboys at Eagles, 4:25 p.m. (Fox)Seahawks at Packers, 8:30 p.m. (NBC)
Monday, Sept. 21Jets at Colts, 8:30 p.m. (ESPN)
WEEK 3
Thursday, Sept. 24Redskins at Giants, 8:25 p.m. (CBS/NFLN)
Sunday, Sept. 27Bengals at Ravens, 1 p.m. (CBS)Saints at Panthers, 1 p.m. (Fox)Raiders at Browns, 1 p.m. (CBS)Falcons at Cowboys, 1 p.m. (Fox)Buccaneers at Texans, 1 p.m. (Fox)Chargers at Vikings, 1 p.m. (CBS)Jaguars at Patriots, 1 p.m. (CBS)Eagles at Jets, 1 p.m. (Fox)Steelers at Rams, 1 p.m. (CBS)Colts at Titans, 1 p.m. (CBS)49ers at Cardinals, 4:05 p.m. (Fox)Bills at Dolphins, 4:25 p.m. (CBS)Bears at Seahawks, 4:25 p.m. (CBS)Broncos at Lions, 8:30 p.m. (NBC)
Monday, Sept, 28Chiefs at Packers, 8:30 p.m. (ESPN)
WEEK 4
Thursday, Oct. 1Ravens at Steelers, 8:25 p.m. (CBS/NFLN)Sunday, Oct. 4Jets vs. Dolphins (at London), 9:30 a.m. (CBS)Texans at Falcons, 1 p.m. (CBS)Giants at Bills, 1 p.m. (Fox)Raiders at Bears, 1 p.m. (CBS)Chiefs at Bengals, 1 p.m. (CBS)Jaguars at Colts, 1 p.m. (CBS)Panthers at Buccaneers, 1 p.m. (Fox)Eagles at Redskins, 1 p.m. (Fox)Browns at Chargers, 4:05 p.m. (CBS)Rams at Cardinals, 4:25 p.m. (Fox)Vikings at Broncos, 4:25 p.m. (Fox)Packers at 49ers, 4:25 p.m. (Fox)Cowboys at Saints, 8:30 p.m. (NBC)
Monday, Oct. 5Lions at Seahawks, 8:30 p.m. (ESPN)
Byes: Tennessee, New England
WEEK 5
Thursday, Oct. 8Colts at Texans, 8:25 p.m. (CBS/NFLN)
Sunday, Oct. 11
Redskins at Falcons, 1 p.m. (Fox)Browns at Ravens, 1 p.m. (CBS)Seahawks at Bengals, 1 p.m. (Fox)Rams at Packers, 1 p.m. (CBS)Bears at Chiefs, 1 p.m. (Fox)Saints at Eagles, 1 p.m. (Fox)Jaguars at Buccaneers, 1 p.m. (CBS)Bills at Titans, 1 p.m. (CBS)Cardinals at Lions, 4:05 p.m. (Fox)Patriots at Cowboys, 4:25 p.m. (CBS)Broncos at Raiders, 4:25 p.m. (CBS)49ers at Giants*, 8:30 p.m. (NBC)
Monday, Oct. 12Steelers at Chargers, 8:30 p.m. (ESPN)
Byes: Carolina, Miami, Minnesota, New York Jets
WEEK 6
Thursday, Oct. 15Falcons at Saints, 8:25 p.m. (CBS/NFLN)
Sunday, Oct. 18Bengals at Bills, 1 p.m. (CBS)Broncos at Browns, 1 p.m. (CBS)Bears at Lions, 1 p.m. (Fox)Texans at Jaguars, 1 p.m. (CBS)Chiefs at Vikings, 1 p.m. (CBS)Redskins at Jets, 1 p.m. (Fox)Cardinals at Steelers, 1 p.m. (Fox)Dolphins at Titans, 1 p.m. (CBS)Panthers at Seahawks, 4:05 p.m. (Fox)Chargers at Packers, 4:25 p.m. (CBS)Ravens at 49ers, 4:25 p.m. (CBS)Patriots at Colts*, 8:30 p.m. (NBC)
Monday, Oct. 19Giants at Eagles, 8:30 p.m. (ESPN)
Byes: Dallas, Oakland, St. Louis, Tampa Bay
WEEK 7
Thursday, Oct. 22Seahawks at 49ers, 8:25 p.m. (CBS/NFLN)
Sunday, Oct. 25Bills vs. Jaguars (at London), 9:30 a.m. (TBA^)Vikings at Lions, 1 p.m. (Fox)Saints at Colts, 1 p.m. (Fox)Steelers at Chiefs, 1 p.m. (CBS)Texans at Dolphins, 1 p.m. (CBS)Jets at Patriots, 1 p.m. (CBS)Browns at Rams, 1 p.m. (CBS)Falcons at Titans, 1 p.m. (Fox)Buccaneers at Redskins, 1 p.m. (Fox)Raiders at Chargers, 4:05 p.m. (CBS)Cowboys at Giants, 4:25 p.m. (Fox)Eagles at Panthers*, 8:30 p.m. (NBC)
Monday, Oct. 26Ravens at Cardinals, 8:30 p.m. (ESPN)
Byes: Chicago, Cincinnati, Denver, Green Bay
^ Buffalo at Jacksonville available in Buffalo and Jacksonville on CBS; global Internet distributor TBA
WEEK 8
Thursday, Oct. 29Dolphins at Patriots, 8:25 p.m. (CBS/NFLN)
Sunday, Nov. 1Lions vs. Chiefs (at London), 9:30 a.m. (Fox)Buccaneers at Falcons, 1 p.m. (Fox)Chargers at Ravens, 1 p.m. (CBS)Vikings at Bears, 1 p.m. (Fox)Cardinals at Browns, 1 p.m. (Fox)Titans at Texans, 1 p.m. (CBS)Giants at Saints, 1 p.m. (Fox)Bengals at Steelers, 1 p.m. (CBS)49ers at Rams, 1 p.m. (Fox)Jets at Raiders, 4:05 p.m. (CBS)Seahawks at Cowboys, 4:25 p.m. (Fox)Packers at Broncos*, 8:30 p.m. (NBC)
Monday, Nov. 2Colts at Panthers, 8:30 p.m. (ESPN)
Byes: Buffalo, Jacksonville, Philadelphia, Washington
WEEK 9
Thursday, Nov. 5Browns at Bengals, 8:25 p.m. (NFLN)
Sunday, Nov. 8Dolphins at Bills, 1 p.m. (CBS)Packers at Panthers, 1 p.m. (Fox)Rams at Vikings, 1 p.m. (Fox)Redskins at Patriots, 1 p.m. (Fox)Titans at Saints, 1 p.m. (CBS)Jaguars at Jets, 1 p.m. (CBS)Raiders at Steelers, 1 p.m. (CBS)Falcons at 49ers, 4:05 p.m. (Fox)Giants at Buccaneers, 4:05 p.m. (Fox)Broncos at Colts, 4:25 p.m. (CBS)Eagles at Cowboys*, 8:30 p.m. (NBC)
Monday, Nov. 9Bears at Chargers, 8:30 p.m. (ESPN)
Byes: Arizona, Baltimore, Detroit, Houston, Kansas City, Seattle
WEEK 10
Thursday, Nov. 12Bills at Jets, 8:25 p.m. (NFLN)
Sunday, Nov. 15Jaguars at Ravens, 1 p.m. (CBS)Lions at Packers, 1 p.m. (Fox)Dolphins at Eagles, 1 p.m. (CBS)Browns at Steelers, 1 p.m. (CBS)Bears at Rams, 1 p.m. (Fox)Cowboys at Buccaneers, 1 p.m. (Fox)Panthers at Titans, 1 p.m. (Fox)Saints at Redskins, 1 p.m. (Fox)Vikings at Raiders, 4:05 p.m. (Fox)Chiefs at Broncos, 4:25 p.m. (CBS)Patriots at Giants, 4:25 p.m. (CBS)Cardinals at Seahawks*, 8:30 p.m. (NBC)
Monday, Nov. 16Texans at Bengals, 8:30 p.m. (ESPN)
Byes: Atlanta, Indianapolis, San Diego, San Francisco
WEEK 11
Thursday, Nov. 19Titans at Jaguars, 8:25 p.m. (NFLN)
Sunday, Nov. 22Colts at Falcons, 1 p.m. (CBS)Rams at Ravens, 1 p.m. (Fox)Redskins at Panthers, 1 p.m. (Fox)Broncos at Bears, 1 p.m. (CBS)Raiders at Lions, 1 p.m. (CBS)Jets at Texans, 1 p.m. (CBS)Cowboys at Dolphins, 1 p.m. (Fox)Packers at Vikings, 1 p.m. (Fox)Buccaneers at Eagles, 1 p.m. (Fox)Bengals at Cardinals, 4:05 p.m. (CBS)49ers at Seahawks, 4:25 p.m. (Fox)Chiefs at Chargers*, 8:30 p.m. (NBC)
Monday, Nov. 23Bills at Patriots, 8:30 p.m. (ESPN)
Byes: Cleveland, New Orleans, New York Giants, Pittsburgh
WEEK 12
Thursday, Nov. 26Eagles at Lions, 12:30 p.m. (Fox)Panthers at Cowboys, 4:30 p.m. (CBS)Bears at Packers, 8:30 p.m. (NBC)
Sunday, Nov. 29Vikings at Falcons, 1 p.m. (Fox)Rams at Bengals, 1 p.m. (Fox)Saints at Texans, 1 p.m. (Fox)Buccaneers at Colts, 1 p.m. (Fox)Chargers at Jaguars, 1 p.m. (CBS)Bills at Chiefs, 1 p.m. (CBS)Dolphins at Jets, 1 p.m. (CBS)Raiders at Titans, 1 p.m. (CBS)Giants at Redskins, 1 p.m. (Fox)Cardinals at 49ers, 4:05 p.m. (Fox)Steelers at Seahawks, 4:25 p.m. (CBS)Patriots at Broncos*, 8:30 p.m. (NBC)
Monday, Nov. 30Ravens at Browns, 8:30 p.m. (ESPN)
WEEK 13
Thursday, Dec. 3Packers at Lions, 8:25 p.m. (CBS/NFLN)
Sunday, Dec. 6Texans at Bills, 1 p.m. (CBS)49ers at Bears, 1 p.m. (Fox)Bengals at Browns, 1 p.m. (CBS)Ravens at Dolphins, 1 p.m. (CBS)Seahawks at Vikings, 1 p.m. (Fox)Panthers at Saints, 1 p.m. (Fox)Jets at Giants, 1 p.m. (CBS)Cardinals at Rams, 1 p.m. (Fox)Falcons at Buccaneers, 1 p.m. (Fox)Jaguars at Titans, 1 p.m. (CBS)Chiefs at Raiders, 4:05 p.m. (CBS)Broncos at Chargers, 4:05 p.m. (CBS)Eagles at Patriots, 4:25 p.m. (Fox)Colts at Steelers*, 8:30 p.m. (NBC)
Monday, Dec. 7Cowboys at Redskins, 8:30 p.m. (ESPN)
WEEK 14
Thursday, Dec. 10Vikings at Cardinals, 8:25 p.m. (NFLN)
Sunday, Dec. 13Falcons at Panthers, 1 p.m. (Fox)Redskins at Bears, 1 p.m. (Fox)Steelers at Bengals, 1 p.m. (CBS)49ers at Browns, 1 p.m. (Fox)Patriots at Texans, 1 p.m. (CBS)Colts at Jaguars, 1 p.m. (CBS)Chargers at Chiefs, 1 p.m. (CBS)Titans at Jets, 1 p.m. (CBS)Bills at Eagles, 1 p.m. (CBS)Lions at Rams, 1 p.m. (Fox)Saints at Buccaneers, 1 p.m. (Fox)Raiders at Broncos, 4:05 p.m. (CBS)Cowboys at Packers, 4:25 p.m. (Fox)Seahawks at Ravens*, 8:30 p.m. (NBC)
Monday, Dec. 14Giants at Dolphins, 8:30 p.m. (ESPN)
WEEK 15
Thursday, Dec. 17Buccaneers at Rams, 8:25 p.m. (NFLN)
Saturday, Dec. 19Jets at Cowboys, 8:25 p.m. (NFLN)
Sunday, Dec. 20Chiefs at Ravens, 1 p.m. (CBS)Texans at Colts, 1 p.m. (CBS)Falcons at Jaguars, 1 p.m. (Fox)Bears at Vikings, 1 p.m. (Fox)Titans at Patriots, 1 p.m. (CBS)Panthers at Giants, 1 p.m. (Fox)Cardinals at Eagles, 1 p.m. (Fox)Bills at Redskins, 1 p.m. (CBS)Packers at Raiders, 4:05 p.m. (Fox)Browns at Seahawks, 4:05 p.m. (Fox)Broncos at Steelers, 4:25 p.m. (CBS)Dolphins at Chargers, 4:25 p.m. (CBS)Bengals at 49ers*, 8:30 p.m. (NBC)
Monday, Dec. 21Lions at Saints 8:30 p.m. ESPN
WEEK 16
Thursday, Dec. 24Chargers at Raiders, 8:25 p.m. (NFLN)
Saturday, Dec. 26Redskins at Eagles, 8:25 p.m. (NFLN)
Sunday, Dec. 27Panthers at Falcons, 1 p.m. (Fox)Cowboys at Bills, 1 p.m. (Fox)49ers at Lions, 1 p.m. (Fox)Browns at Chiefs, 1 p.m. (CBS)Colts at Dolphins, 1 p.m. (CBS)Giants at Vikings, 1 p.m. (Fox)Jaguars at Saints, 1 p.m. (CBS)Patriots at Jets, 1 p.m. (CBS)Bears at Buccaneers, 1 p.m. (Fox)Texans at Titans, 1 p.m. (CBS)Packers at Cardinals, 4:25 p.m. (Fox)Rams at Seahawks, 4:25 p.m. (Fox)Steelers at Ravens*, 8:30 p.m. (NBC)
Monday, Dec. 28Bengals at Broncos, 8:30 p.m. (ESPN)
WEEK 17
Sunday, Jan. 3Saints at Falcons, 1:00 p.m. (Fox)Jets at Bills, 1:00 p.m. (CBS)Buccaneers at Panthers, 1:00 p.m. (Fox)Lions at Bears, 1 p.m. (Fox)Ravens at Bengals, 1 p.m. (CBS)Steelers at Browns, 1 p.m. (CBS)Redskins at Cowboys, 1 p.m. (Fox)Vikings at Packers, 1 p.m. (Fox)Jaguars at Texans, 1 p.m. (CBS)Titans at Colts, 1 p.m. (CBS)Raiders at Chiefs, 1 p.m. (CBS)Patriots at Dolphins, 1 p.m. (CBS)Eagles at Giants, 1 p.m. (Fox)Seahawks at Cardinals, 4:25 p.m. (Fox)Chargers at Broncos, 4:25 p.m. (CBS)Rams at 49ers, 4:25 p.m. (Fox)
* Sunday night games in Weeks 5-16 subject to change; Week 17 night game TBD
POSTSEASON
AFC and NFC wild-card playoffsSaturday, Jan. 9, and Sunday, Jan. 10, 2016 AFC and NFC divisional playoffsSaturday, Jan. 16 and Sunday, Jan. 17, 2016 AFC and NFC championship gamesSunday, Jan. 24, 2016 Pro Bowl (Aloha Stadium, Honolulu)Sunday, January 31, 2016 (ESPN)