Motor sport
Nascar 2016 Daytona 500 2016 Results: Winner, Standings, Highlights And Reaction
Feb 21, 2016; Daytona Beach, FL, USA; NASCAR Sprint Cup Series driver Denny Hamlin (11) poses with the Harley J. Earl Trophy after winning the Daytona 500 at Daytona International Speedway. Mandatory Credit: Mark J. Rebilas-USA TODAY Sports
Mark J. Rebilas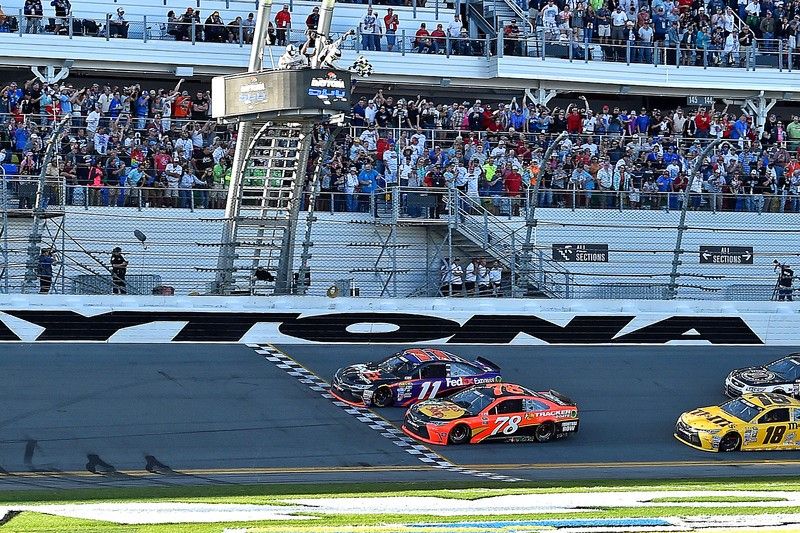 Feb 21, 2016; Daytona Beach, FL, USA; NASCAR Sprint Cup Series driver Denny Hamlin (11) beats NASCAR Sprint Cup Series driver Martin Truex Jr. (78) to win the Daytona 500 at Daytona International Speedway. Mandatory Credit: Jasen Vinlove-USA TODAY Sports
Jasen Vinlove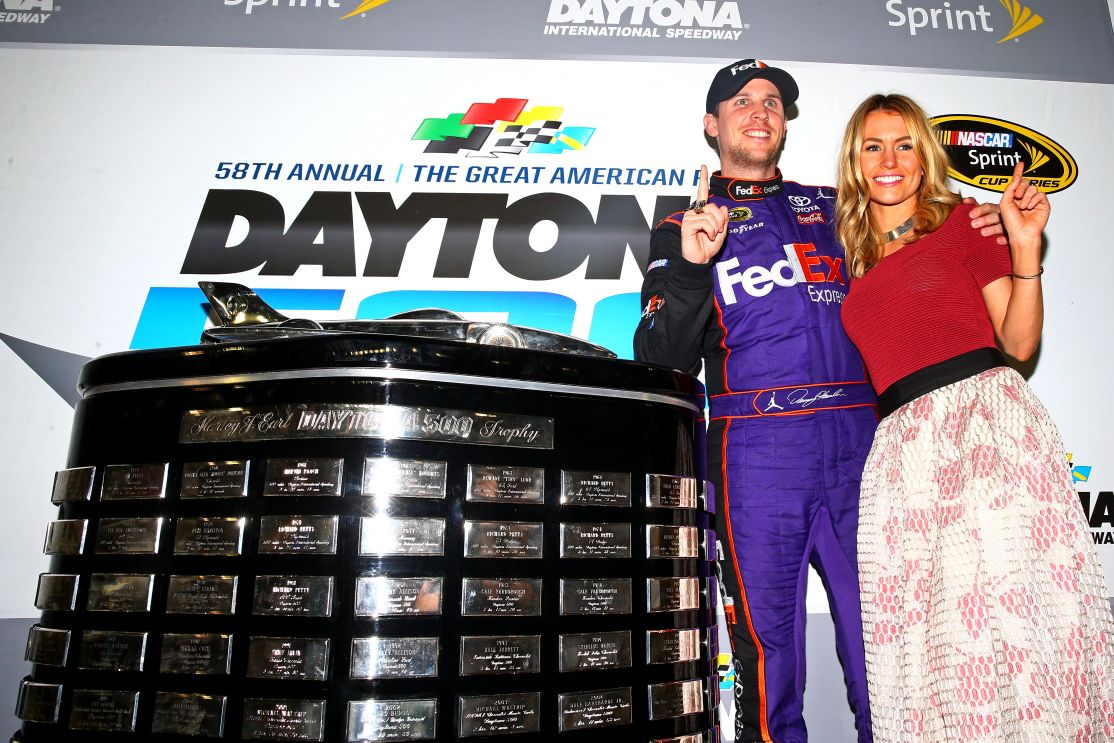 Feb 21, 2016; Daytona Beach, FL, USA; NASCAR Sprint Cup Series driver Denny Hamlin (11) poses with the Harley J. Earl Trophy with his girlfriend Jordan Fish after winning the Daytona 500 at Daytona International Speedway. Mandatory Credit: Mark J. Rebilas-USA TODAY Sports
Mark J. Rebilas
Feb 21, 2016; Daytona Beach, FL, USA; Fans cheer during the last lap of the Daytona 500 at Daytona International Speedway. Mandatory Credit: Mark J. Rebilas-USA TODAY Sports
Mark J. Rebilas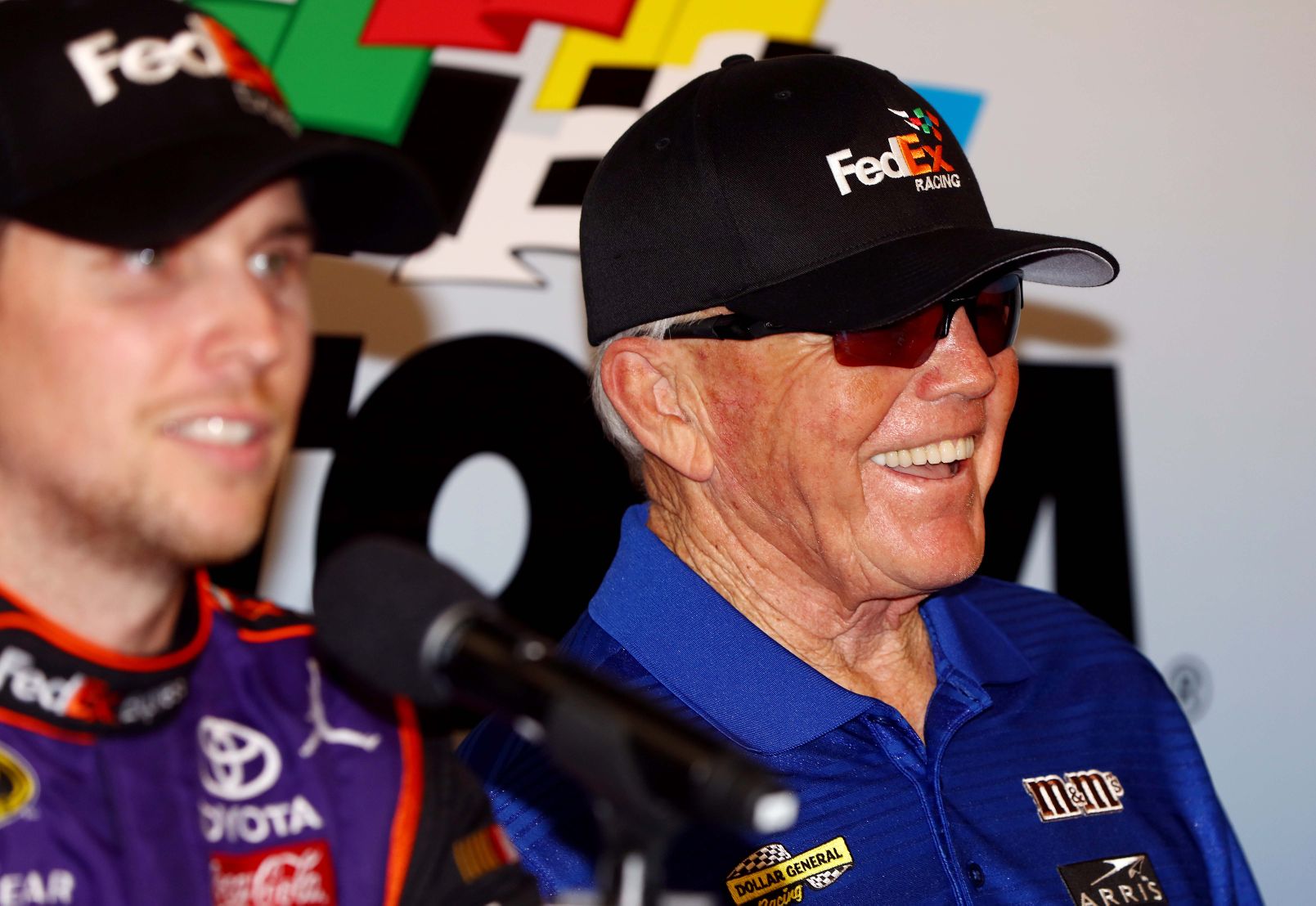 Feb 21, 2016; Daytona Beach, FL, USA; NASCAR Sprint Cup Series driver Denny Hamlin (11) and team owner Joe Gibbs during a press conference after winning the Daytona 500 at Daytona International Speedway. Mandatory Credit: Jasen Vinlove-USA TODAY Sports
Jasen Vinlove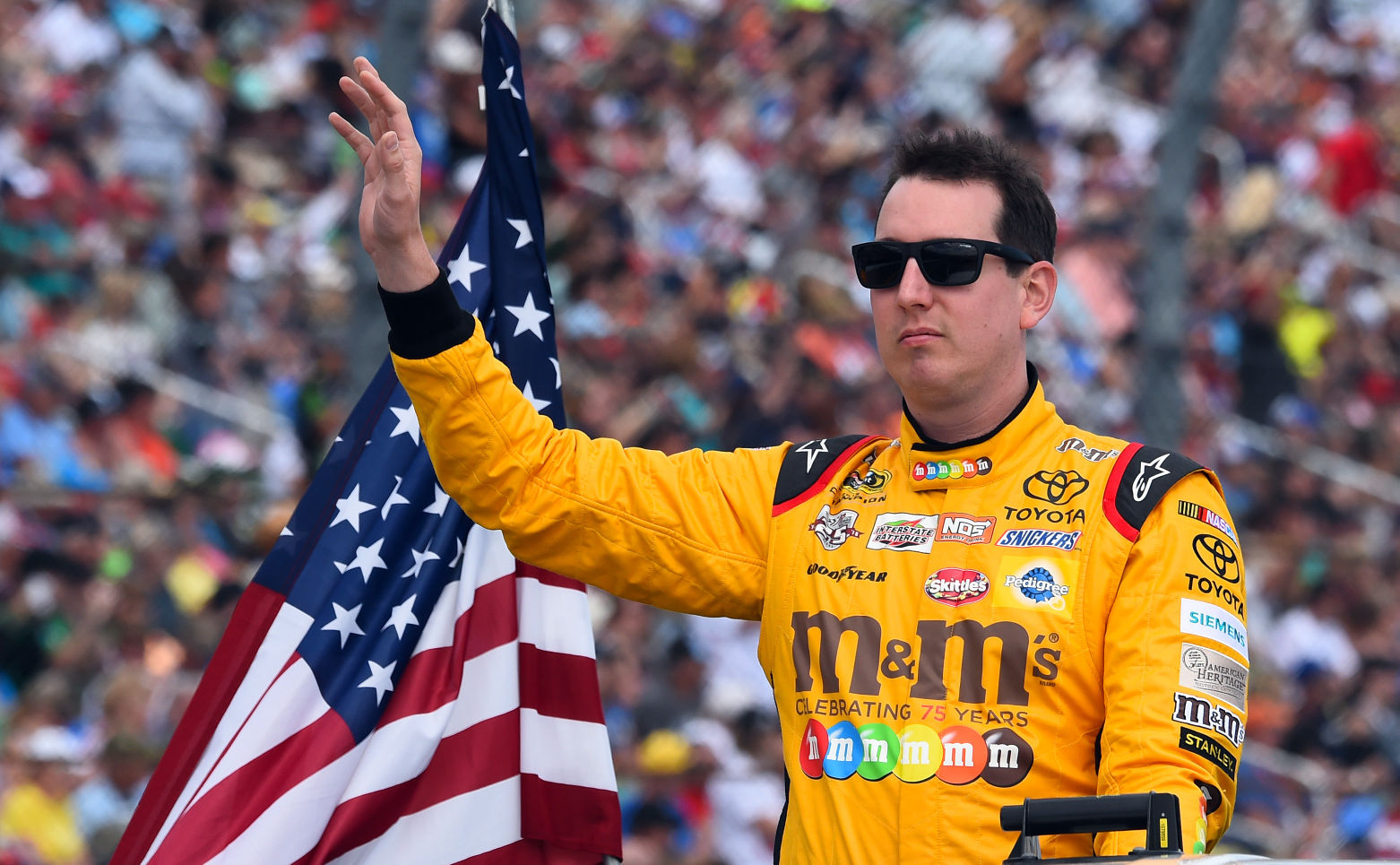 Feb 21, 2016; Daytona Beach, FL, USA; NASCAR Sprint Cup Series driver Kyle Busch (18) before the Daytona 500 at Daytona International Speedway. Mandatory Credit: Mike DiNovo-USA TODAY Sports
Mike Dinovo
Feb 21, 2016; Daytona Beach, FL, USA; NASCAR Sprint Cup Series driver Kurt Busch (41) before the Daytona 500 at Daytona International Speedway. Mandatory Credit: Mike DiNovo-USA TODAY Sports
Mike Dinovo
Feb 21, 2016; Daytona Beach, FL, USA; NASCAR Sprint Cup Series driver Danica Patrick (10) during the Daytona 500 at Daytona International Speedway. Mandatory Credit: Mike DiNovo-USA TODAY Sports
Mike Dinovo
Feb 21, 2016; Daytona Beach, FL, USA; NASCAR Sprint Cup Series driver Denny Hamlin (11) and Jimmie Johnson (48) during the Daytona 500 at Daytona International Speedway. Mandatory Credit: Mike DiNovo-USA TODAY Sports
Mike Dinovo
Feb 21, 2016; Daytona Beach, FL, USA; NASCAR Sprint Cup Series driver Carl Edwards (19), Kevin Harvick (4), Jaime McMurray (1), Ryan Blaney (21), Brad Keselowski (2) and Kyle Larson (42) during the Daytona 500 at Daytona International Speedway. Mandatory Credit: Mike DiNovo-USA TODAY Sports
Mike Dinovo
Feb 21, 2016; Daytona Beach, FL, USA; NASCAR Sprint Cup Series driver Martin Truex Jr. (78) and driver Brian Vickers (14) during the Daytona 500 at Daytona International Speedway. Mandatory Credit: Mike DiNovo-USA TODAY Sports
Mike Dinovo
Feb 21, 2016; Daytona Beach, FL, USA; NASCAR Sprint Cup Series driver Denny Hamlin (11) celebrates winning during the Daytona 500 at Daytona International Speedway. Mandatory Credit: Jasen Vinlove-USA TODAY Sports
Jasen Vinlove
Feb 21, 2016; Daytona Beach, FL, USA; NASCAR Sprint Cup Series driver Chase Elliott (24) greets his pit crew prior to the Daytona 500 at Daytona International Speedway. Mandatory Credit: Mark J. Rebilas-USA TODAY Sports
Mark J. Rebilas
Feb 21, 2016; Daytona Beach, FL, USA; NASCAR Sprint Cup Series driver Dale Earnhardt, Jr. (88) spins during the Daytona 500 at Daytona International Speedway. Mandatory Credit: Mike DiNovo-USA TODAY Sports
Mike Dinovo
Feb 21, 2016; Daytona Beach, FL, USA; NASCAR Sprint Cup Series driver Dale Earnhardt Jr. (88) before the Daytona 500 at Daytona International Speedway. Mandatory Credit: Mike DiNovo-USA TODAY Sports
Mike Dinovo
Feb 21, 2016; Daytona Beach, FL, USA; NASCAR Sprint Cup Series driver Chase Elliott (24) before the Daytona 500 at Daytona International Speedway. Mandatory Credit: Mike DiNovo-USA TODAY Sports
Mike Dinovo
Feb 21, 2016; Daytona Beach, FL, USA; NASCAR Sprint Cup Series driver Danica Patrick (10) before the Daytona 500 at Daytona International Speedway. Mandatory Credit: Mike DiNovo-USA TODAY Sports
Mike Dinovo
Feb 21, 2016; Daytona Beach, FL, USA; The U.S. Air Force F-16 Thunderbirds perform a flyover during the national anthem before the Daytona 500 at Daytona International Speedway. Mandatory Credit: Peter Casey-USA TODAY Sports
Peter Casey
Feb 21, 2016; Daytona Beach, FL, USA; Professional wrestler John Cena before the Daytona 500 at Daytona International Speedway. Mandatory Credit: Mark J. Rebilas-USA TODAY Sports
Mark J. Rebilas
Welcome to the discussion.
Đang xem: Nascar 2016 daytona 500
Please log in, or sign up for a new, free account to read or post comments.
Keep it Clean. Please avoid obscene, vulgar, lewd,racist or sexually-oriented language.PLEASE TURN OFF YOUR CAPS LOCK.Don't Threaten. Threats of harming anotherperson will not be tolerated.Be Truthful.
Xem thêm: The 11 Best Over The Top Tunes From Nfl Films Music Bells Music: Nfl
Don't knowingly lie about anyoneor anything.Be Nice. No racism, sexism or any sort of -ismthat is degrading to another person.Be Proactive. Use the 'Report' link oneach comment to let us know of abusive posts.Share with Us.
Xem thêm: Sizz (@Thereal Hot Sauce Street Basketball, Rafer Alston: The Playground X The Hardwood
We'd love to hear eyewitnessaccounts, the history behind an article.